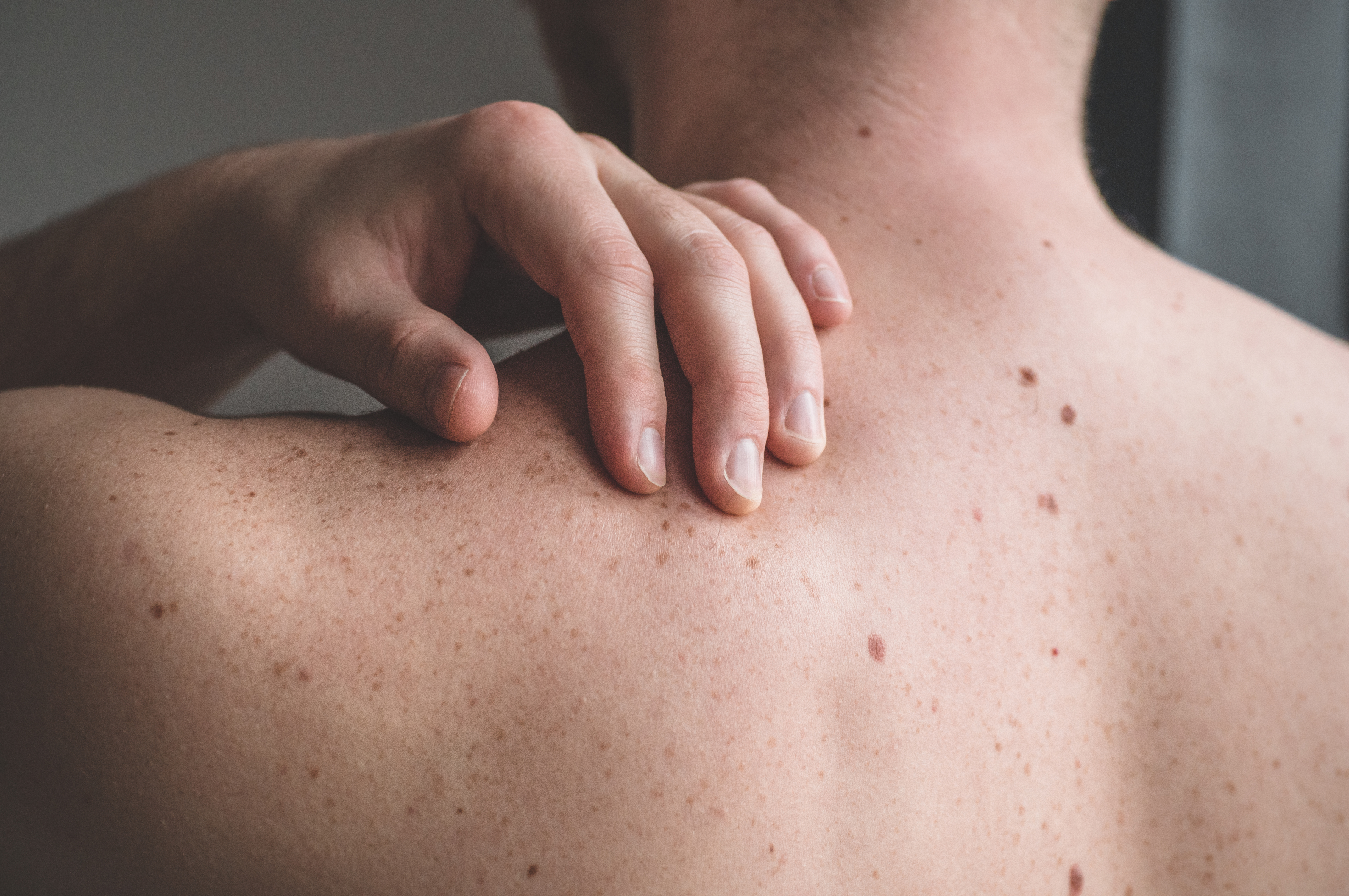 The ABCDEs of Melanoma
Skin Cancer is very common, with over 5 million cases each year. However, it's important to note that skin cancer is one of the most preventable cancers if you have proper yearly skin checks by a dermatology-trained health care provider. Melanoma is the most serious form of skin cancer that begins in cells known as melanocytes. They are caused by abnormal, uncontrolled growth of melanocytes from UV rays and can appear anywhere on the body, nails, and eyes. 70-80% of Melanomas arise on normal-looking skin. Performing self-skin exams can help you detect melanoma early. Here are 3 things to look for when you're looking for skin cancer, anything: New, Changing, or Unusual.
Keep an eye out for any NEW moles or blemishes that have popped up, especially if they appear after the age 21.
Always check if your spots are CHANGING in color, shape, size or texture.
Look for spots that are UNUSUAL in outline or continuously itch, hurt, crust or bleed for more than 3 weeks.
Your risk of developing a melanoma DOUBLES with a history of 5 or more sunburns! Aside from UV exposure on unprotected skin, other risk factors include fair skin, many moles (atypical moles), weakened immune system, genetic risk factors, and skin cancer history. Indoor tanning causes a 75% increased risk of developing life-threatening melanoma from just one tanning bed session before age 35.
Familiarize yourself with the ABCDEs of Melanoma:
A is for Asymmetry. Most melanomas are asymmetrical. If you were to split the lesion in half, the two halves woudn't match up looking different than a round or oval commonly symmetrical mole.
B is for Border. Border changes of melanomas can appear wavy, scalloped or have jagged edges as opposed to common moles with smooth, crisp, even borders.
C is for Color. Varied colors throughout a lesion should be a red flag! When you see a mix of brown and red or different shades of brown, tan or black with often a blue/gray veil or white in the mix, it's definitely a warning sign.
D is for Diameter or Dark. Ideally, it's best to detect melanomas when they are small but another warning sign is anything larger than 6mm or the size of a pencil eraser. We call it the "ugly duckling" sign where a mole that sticks out and is darker than the others, no matter the size, can also raise concern for melanoma.
E is for Evolving. A mole or skin lesion that is changing or evolving in size, shape, color or any new symptom, like bleeding, itching or crusting may be a warning sign for melanoma.
Melanomas can appear where the sun doesn't shine and can also be found in the eyes and mouth. Routine check-ups with your Ophthalmologist and Dentist are imperative.
For more information and quick facts about skin cancer, the Skin Cancer Foundation is a valuable resource: www.skincancer.org