At the AdmireMD® Skin Clinic, we work closely with each individual patient to help them select the right skincare products that are perfect for their skin. We examine your skin and learn about your unique aesthetic concerns and goals. We aim to pair the best products available to meet your needs and achieve your cosmetic ideals.
AdmireMD® Skin Clinic proudly provides Alastin Skincare products to address and improve a broad range of skin concerns. Alastin Skincare in Scottsdale is the perfect way to give a beautiful, effective boost to your skincare routine. Out of a great selection of products, we will help you choose the right ones to suit your needs.
Admire

MD® Skin Clinic

AdmireMD® Skin Clinic is proud to offer a relaxing, luxurious environment where you can unplug and unwind, letting your cares fade away as you receive expert skin treatments. In addition to the most cutting-edge laser treatments — Sciton BBL HERO & HALO, we offer a full range of injectables, Morpheus8 RF Microneedling, and numerous minimally-invasive skincare treatments. Our goal is to give you a welcoming, world-class experience while you journey toward the beautiful, healthy skin you want. If you think you might be interested in joining one of our AdmireMD® Skin Memberships with the AdmireMD® Skin Clinic, please reach out and set up your consultation today! We're excited to learn about how we can help you meet your goals.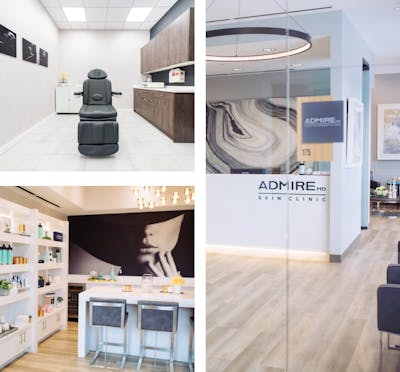 What Skin Concerns Can Alastin Skincare Products Treat?
Our Alastin Skincare in Scottsdale can address the following skincare concerns:
Wrinkles, fine lines, and crow's feet
Dry, dull skin
Sun damage
Crepey skin
Discoloration and pigmentation concerns
Skin begins to sag or loses elasticity
If you'd like to achieve healthy, firmer, beautifully radiant skin, we invite you to work with our experts at our med spa. We can help you to choose the products that align perfectly with the needs of your skin and develop a skincare regime that achieves fresh, rejuvenated, glowing skin. Reach out to set up your consultation with us, and learn more about how we can help!