Dr. Anthony A. Admire, board-certified plastic surgeon and founder at AdmireMD® Plastic Surgery + Skin Clinic, has refined and improved the traditional Deep Plane Facelift Technique for patients in the Scottsdale area, as well as for out-of-town travelers. Dr. Admire has trademarked the Perfect Plane™ Facelift, by utilizing his own techniques for deep plane dissection to more effectively reposition the muscles and tissues of the face and neck, with a greater level of precision and reproducibility.
Over time, gravity, sun exposure, the stresses of daily life, and simple genetics can start to really take their toll on the appearance of the face and neck. Deep creases can begin to appear beside the mouth, while the jawline becomes less defined, with jowls forming and the neck becoming more full with the development of stretched vertical muscle bands and loose skin. Luckily, these common concerns can be addressed with a facelift in Scottsdale at AdmireMD® Plastic Surgery + Skin Clinic.
What is a facelift?
Dr. Admire's signature Perfect Plane™ Facelift and Necklift effectively reverses the signs of aging by repositioning or tightening muscles, removing or relocating fat, and trimming away excess skin to reveal a fresher, more youthful appearance. Dr. Anthony Admire at AdmireMD® Plastic Surgery + Skin Clinic, has revolutionized the Deep Plane Facelift and Necklift, known as The Perfect Plane™ - one of the best facelift procedures available in the country. Contact us for a personal consultation to learn how Dr. Admire's position as one of the premier facial rejuvenation specialists, not only in the Scottsdale area but also across the country, can help you achieve your youthful face from 20-30 years ago.
Facelift Before and After Photos
What are the benefits of facelift surgery?
A facelift provides a younger, more sculpted appearance that allows you to feel confident and attractive. Facelifts are a popular procedure with a number of benefits:
Tightens and lifts sagging, aging skin
Reduces or eliminates jowls or a double chin
Targets many signs of aging in one procedure
Takes as much as ten years off the face
Revitalizes and refreshes the appearance
Lifts a heavy brow
Greatly reduces or erases wrinkles and heavy lines
Sculpts and refines the lines and contours of the face
Facial Rejuvenation with Dr. Admire
Customizing Your Facelift Procedure
An important part of the facelift procedure involves ensuring that it is tailored to the unique physical characteristics of each patient and their individual goals and cosmetic aspirations. His commitment to the latest technologies and methods allows Anthony A. Admire to customize the Perfect Plane™ facelift in Scottsdale, depending on the patient's needs and areas of aging.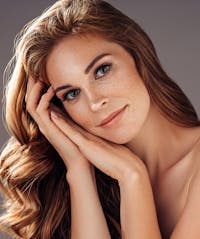 Dr. Anthony A. Admire's Signature Deep Facelift: The Perfect Plane™
Dr. Anthony Admire has refined the art and science of the Deep Plane Facelift, creating The Perfect Plane™ Facelift, a revolutionary procedure for patients looking to reverse the many classic signs of facial aging. Having performed hundreds of face and neck lifts, The Perfect Plane™ Deep Facelift is the culmination of Dr. Admire's 15 years of excellence and experience in facial plastic surgery. The Perfect Plane™ is designed not to make you look "different," but to make you look better and decades younger.
It improves all of the most common signs of aging, including the following:
Separation of the lower eyelid and cheek, with the lower eyelid getting longer.
Flatness or loss of volume of the cheeks due to soft tissue descent.
More prominent nasolabial folds due to cheek descent, inferior and medial.
Jowling, causing blunting or loss of contour of the jawline.
Deep marionette lines.
Laxity or stretching of the neck's platysma muscles, causing loose bands of muscle and skin.
Loss of sharp definition of the chin, neck, and jawline.
The Perfect Plane Facelift is a greatly-refined and entirely unique version of the Deep Plane Facelift that restores the face to a much more youthful appearance, resulting in patients looking refreshed and rejuvenated, and finally feeling that their outward appearance mirrors their inner youthfulness and vibrance.

The Perfect Plane™ Deep Facelift is perfectly suited for younger and older patients alike. The ideal candidate is a healthy patient ranging in age from the 40s to the late 70s, whose goal is to retain or restore facial volume, position, and proportions in a very natural-looking way
Dr. Admire Facelift Reviews
Dr. Admire is a very skilled plastic surgeon. I was aiming for a natural look with my facelift and he did just that.
I had a mini facelift and upper eye lift, also I had a breast lift and implant revision. I'm 3 1/2 months in and I'm so pleased with the outcome!
Dr. Admire was fantastic, with super caring bed manners. Did face and neck lift that delivered a super natural result.
What is Recovery Like
After Facelift Surgery?
Following the completion of your facelift in Scottsdale, a bandage will be placed at the time of surgery around your face, to help minimize swelling and bruising, and small tubes may be present to draw off any excess blood or fluid. We will provide you with detailed and specific instructions on how to care for the surgical site and drains, medications to apply or take orally, and specific concerns to look for at the surgical site or in your general health. We will also follow up with you to ensure that you're healing up properly.
While most patients feel ready to return to daily life within 7-10 days, it can take between two and three months for your face to feel "back to normal" in terms of its texture, sensitivity, and tightness. Regular sun protection and a healthy lifestyle will extend your results. Also, a medical-grade skincare regimen from our medical spa will be recommended to ensure lifelong results. As swelling and bruising subside, you will notice improvements more clearly, with the final result providing a more youthful and rested appearance, while also helping you feel more confident about yourself and looking decades younger.
Is the Recovery Process Painful?
While it's quite normal to experience some pain during the first two to four days following your surgery, we will make sure you are provided with anything you need to keep this managed and stay comfortable. You may have some trouble opening your mouth for a few days and therefore a soft diet is recommended for just a few days. Also, the skin at your incision sites will be numb for a short while, but up to 6 months, before sensation fully returns.

Some Good Questions
to Ask Before Your Surgery
Your consultation is not only our chance to learn about you and your goals, but your chance to learn about us, your future procedure, and what to expect during the recovery period. Don't hesitate to ask Dr. Anthony A. Admire and his staff at AdmireMD® Plastic Surgery + Skin Clinic specific questions about what you can expect after your Perfect Plane ™ Deep Facelift in Scottsdale. Here are a few helpful ideas:
Where will I be taken after my surgery is complete?
What medication will I be given or prescribed after surgery?
Will I have dressings/bandages after surgery?
When will they be removed?
When will the stitches be removed?
When can I wash my face and wear make-up?
When can I resume normal activity and exercise?
When can I color my hair or get a haircut?
Facelift FAQ
How do I prepare for facelift surgery?
Preparing for a facelift usually involves lab work and medical testing, ceasing smoking as necessary, and avoiding certain drugs or supplements that can affect bleeding and bruising.
What procedures can I combine with my facelift?
If the patient desires it, Dr. Admire will consider combining a neck lift, eyelid surgery, or rhinoplasty into the same surgical session. He strives to find the balance between reduced recovery time and ensuring totally adequate attention can be given to each individual procedure.
How soon can I go back to work after my facelift?
Most patients will be able to return to work within 10 to 14 days of their facelift surgery. You may still have the last bits of bruising, but this is often easily covered up with makeup.
How long does the procedure take?
Depending on the method used, facelift surgery in Scottsdale with Anthony A. Admire typically takes around 3 hours. Additional time might be needed if other procedures such as fat injections, eyelid surgery, or blepharoplasties are performed at the same time.
Will I need to stay in the hospital after my facelift?
Most likely your facelift will be an outpatient procedure, meaning you will be able to return home after your anesthesia wears off and you are stable and comfortable to be discharged. Some patients can elect to stay overnight at our state of the art surgery center, especially if additional procedures will be done at the same time.
Will my facelift results be permanent?
While we cannot stop the aging process, your results should last between 15 to 20 years plus. Patients who develop skin laxity in the neck or jowls often find that a mini-lift addresses their skin issues, and do not require another full facelift.
Are there risks associated with a facelift?
A facelift is considered a major surgery, and carries with it the risks that would come with any similar procedure: bleeding, poor incision healing, infection, and a reaction to anesthesia. Other specific risks that apply to this procedure include:
Temporary Injury to the nerves that control facial muscles
Temporary numbness or tingling around the incision areas
Hair loss at the incision sites
Skin discoloration
Skin healing issues (more common with smokers) that could cause wound care
Will I Have Scarring After My Facelift?
Dr. Admire is known for his meticulous suturing techniques that make scars nearly imperceptible. He also places the scars to be very well hidden and avoid hair loss. Nearly all the sutures are dissolvable, which enhances scar recovery. Dr. Admire and his team will put you on a 6-month post-surgical scar recovery program following your surgery.