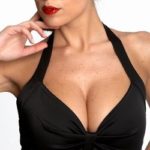 It is natural for our skin to lose some of its elasticity as we grow older and age. The reduction in elasticity creates changes in our overall appearance. Most women generally start noticing that their breasts begin to drop downwards; it is a gradual and subtle change.
They also notice the shape of their breasts changing significantly. This can cause self-esteem issues and body-image problems.
Fortunately, there is a breast-lift operation called mastopexy that lifts the nipple-areolar complex higher on the chest wall and restores a firmer and perkier breast shape.
What Does a Mastopexy Do?
Mastopexy redefines and reshapes your breasts to your liking. Breast lifts create a more youthful, proportional, and beautiful breast shape. It restores and improves a woman's feminine proportions with more youthful breast contours.
Why Should You Get a Breast Lift?
• Restoring your breast shape: Usually, after pregnancy, women start to notice that their breasts are left stretched and sagging. A breast lift can help in restoring their breasts to their natural positions.
• Improving the overall volume of your breasts: Often, women notice the significant loss in the volume of their breasts when they lose weight. A breast lift can aid in restoring a more proportional breast shape and size.
Who Is an Ideal Candidate for This Surgery?
Women who have lost breast volume and skin elasticity are good candidates for this surgery. Mastopexy can have enormous benefits for your appearance and quality of life!
Ideal breast-lift candidates are women in good health who are looking to fix their drooping breasts. We recommend that you:
• Be older than 18 years.
• Have a physically healthy body and mind.
• Avoid getting this operation when pregnant.
• Avoid this operation if you are planning to become pregnant.
• Avoid this operation if you are unable to maintain a stable weight and have plans for major weight loss.
What Happens During the Procedure?
The procedure is generally performed at an outpatient facility. The surgical techniques used to remove breast skin and reshape the breast tissues vary from one person to another. It will depend on the size and shape of the breasts and the amount of excess skin and sagging involved.
Dr. Admire will make one of three types of incisions:
• Lollipop: An incision is made around the areola, and another is made down from this to meet the crease of the breast (used for moderate sagging).
• Donut: Two concentric circular incisions are made around the areola (used for a smaller degree of sagging).
• Anchor: An incision is made around the areola, another is made down to the breast crease, and a third is made across the crease (used for excessive sagging).
After, he will place stitches deep within your breasts to reshape your breast tissues. Excess breast skin will be removed and the areolae will be moved to a higher position if necessary.
The doctor will then close the incisions with stitches, surgical tape, or skin adhesives. The procedure generally takes two to three hours.
Contact Us to Schedule a Consultation
To learn more information about the breast lift, contact our office and set up a consultation with board-certified plastic surgeon Dr. Anthony Admire. He will be happy to discuss your options and help you achieve your ideal breasts!